Dell PowerConnect 6248 Switch Gigabit 48 Port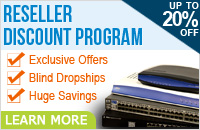 The Dell PowerConnect 6248 is a 48 port network switch designed for medium enterprise businesses. The Dell 6248 provides 48 ports at Gigabit speeds for high speed connection to desktops, servers, and other networked equipment. Four SFP combo ports can be used in place of copper Ethernet RJ-45 ports for longer fiber optic runs. The Dell 6248 is a layer 3 switch. The switch is stackable through the use of YY741 stacking modules. Built in IPv6 capabilities enable worldwide scalability. In addition, the PowerConnect 6248 supports advanced features such as Quality of Service, High Performance Cluster Computing (HPCC), iSCSI optimization, along with SNMP capabilities and a full integrated GUI.
The Dell PowerConnect 6248 has a switch fabric capacity of up to 184Gb/s and a forwarding rate of 131Mpps. Up to 8,000 MAC address entries are supported in the address table. The switch can support advanced features such as double VLAN tagging with up to 4093 VLANs supported by the switch. Dynamic VLAn support with GVRP is included. The Dell 6248 network switch supports optional 10Gb/s network uplinks in the rear of the switch. The switches can accept either SFP+, XFP, CX4, or even 10GBase-T copper physical ports. The Dell PowerConnect 6248 supports advanced quality of service (QoS) to prioritize time senstive and critical traffic through the network switch.
Dell PowerConnect 6248 Features:
48 Ports

Gigabit Speed

4 SFP Combo Ports

Optional 10Gb Uplink Ports

Rack Mountable

Web-based Graphical User Interface

Command Line Interface

Stackable Up to 48 Gbps

CPU SDRAM: 256MB

32MB Flash

MAC Address Table: 8,000 Entries

Swith Fabric Capacity: 184 Gb/s

Forwarding Rate: 131 Mpps

Static Routes

Layer 3

Routing Information Protocol (RIP) v1/v2

Open Shortest Path First (OSPF) v1/v2/v3

Classless Inter-Domain Routing (CIDR)

Ineternet Control Message Protocol (ICMP)

Address Resolution Protocol (ARP)

Internet Group Management Protocol (IGMP) v2

VLAN Support: Up to 4,093

Quality of Service (QoS)

Broadcast Storm Control

Flow-based Port Mirroring

Port Mirroring
Includes:
(1) Dell PowerConnect 6248 Network Switch

Rack mounts (rack ears) with a screw kit

Console Cable

Power cord

1 Year Warranty