Dell PowerConnect 6248P PoE Switch 48 Port Gigabit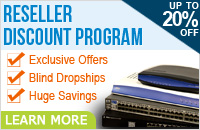 The PowerConnect 6248P delivers a comprehensive feature set with superb performance for the small to medium enterprise. The PowerConnect 6248P is designed to give users the flexibility to maximize connectivity. This 48-port Gigabit Ethernet Layer 3 switch is stackable and offers optional 10 Gigabit Ethernet uplinks and supports the latest version of the Internet Protocol IPv6 enabling broader worldwide scalability. The PowerConnect 6248P offers Enterprise class availability with failover times that provide for sub-250ms failover of any stacked switch, including master failure under all configurations. Furthermore, high performance stacking is supported for up to twelve systems, and advanced security and Quality of Service (QoS) features make this switch ideal for applications such as Voice over IP, Layer 3 routing, High Performance Cluster Computing (HPCC), and iSCSI storage. Advanced monitoring functions include sflow support, SNMP capabilities and a full GUI interface with graphical reporting. Our Dell Powerconnect switches are all tested before they are shipped.
In the event of a switch failure, high availability functions maintain traffic flow in the stack, including mission-critical voice and storage sessions. The Dell 6248P is a power over Ethernet (PoE) capable switch that can deliver full 15.4W 802.3af power all 48 ports. The Dell 6248P has been built to power end point devices such as IP phones through Power over Ethernet.
Dell PowerConnect 6248P Features:
Ideal for small to medium enterprise
Power Over Ethernet providing up to 15.4 Watts of power
48 Ports Gigabit Speed
4 SFP Combo Ports
10Gb Stackable
Supports stacking for up to 12 systems
Advanced security and Qulaity of Service (QoS) features
Layer 3 routing
High Performance Cluster Computing (HPPC)
iSCSI storage
Includes:
(1) Dell 6248P Network Switch
Rack mounts (rack ears) with a screw kit
Console Cable
Power cord
Tested
1 Year Warranty