Adtran Total Access 924e 3rd Gen Gateway 4243924F2 Lifeline FXO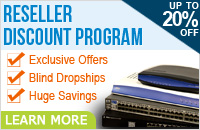 The Adtran Total Access 924e is an enterprise level gateway for users who need the ability to easily convert SIP to PRI or T1. In additional, the gateway can handle SIP to FXS conversions or even T1 to 24 FXS analog ports. The Adtran 4243924F2 features an optional support for Session Border Control functionality. In addition the 924e functions as a full IP router with stateful inspection firewall, VLAN trunking, and Quality of Service support.
The Adtran 4243924F2 features a built in lifeline FXO port for remote survive-ability in the event of a network outage.
Adtran 4243924F2 Features:
Dual DSP (60 Channels)

eSBC Functionality (Optional)

Supports 24 FXS Inputs

Supports 3 Ethernet Interfaces - One Gigabit

Dynamic Bandwidth Allocation

Integrated IP Router

Stateful Inspection Firewall

Supports Quality of Service (QoS)

802.1Q VLAN Trunking

Voice Quality Monitoring (VQM)

Network Address Translation

SIP Gateway
Includes:
(1) Adtran Total Access 924e 3rd Gen Gateway 4243924F2

Rack Ears

Console Cable

Power Cord

1 Year Warranty