Dell PowerConnect 5524P PoE Gigabit Stacking Switch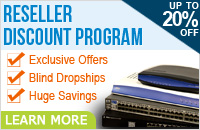 The Dell PowerConnect 5524P is a 24 port power over Ethernet (PoE) network switch. The switch is capable of sending Gigabit speeds to each of the 24 ports. The 5524P is a power over Ethernet switch that provides full IEEE 802.3af 15.4W power to each of the switches 24 ports. The switch is managed, and supports multiple configurations through command line interface or web graphical user interface. The network switch is stackable through HDMI ports at full duplex 10 Gbps per port.
The PowerConnect 5524P has a built in USB port that allows autoconfiguration of the switch or the ability to import and export files locally. Broadcast storm control is included with the switch to prevent your entire network from going down due to a network error. The switch supports VLANs and can tag both a specified voice and guest VLAN. Two SFP+ ports with the switch support 10 GbE / 1 GbE fiber connectivity.
Dell PowerConnect 5524P Features:
24x Ports
10/100/1000 Gigabit
2x 10 GbE / 1 GbE SFP+ Fiber Ports
2x HDMI Stacking Ports, 10 Gb per Port
Stack Up to 8 Switches Together
802.3af Power over Ethernet
Layer 2, Managed
USB Autoconfiguration
Broadcast Storm Control
IPv6 Support
Web Based GUI
LLDP-MED Support
IEEE 802.3az Energy-Efficient Ethernet
Includes:
(1) Dell PowerConnect 5524P Network Switch
Rack Ears
Power Cord
Serial Cable
1 Year Warranty