Dell PowerConnect 5524 24 Port Layer 3 Switch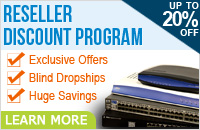 The Dell PowerConnect 5524 is a 24 port Gigabit networking switch. The switch is managed, and supports multiple configurations through command line interface or web graphical user interface. The network switch is stackable through HDMI ports at full duplex 10 Gbps per port.
The PowerConnect 5524 has a built in USB port that allows autoconfiguration of the switch or the ability to import and export files locally. Broadcast storm control is included with the switch to prevent your entire network from going down due to a network error. The switch supports VLANs and can tag both a specified voice and guest VLAN. Two SFP+ ports with the switch support 10 GbE / 1 GbE fiber connectivity. Up to 64 static routes can be supported and port profiles help to create predefined macros to auto-configure ports. The Dell PowerConnect 5524 supports advanced enterprise level features such as port mirroring, energy efficient-Ethernet IEEE 802.3az, spanning tree protocol, and support for dual firmware images.
Dell PowerConnect 5524 Features:
24 Ports
10/100/1000 Gigabit
2x 10 GbE / 1 GbE SFP+ Fiber Ports
2x HDMI Stacking Ports, 10 Gb per Port
Layer 3, Managed
USB Autoconfiguration
Broadcast Storm Control
IPv6 Support
Web Based GUI
Dual Firmware Image Support
Rapid Spanning Tree Protocol (RSTP) Support
128 Gbps Switch Fabric Capacity
65.47 Mpps Forwarding Rate
Supports up to 16,000 MAC Addresses
Supports 65 Layer 3 Static Routes
802.1Q VLAN Support
Supports Quality of Service (QoS)
Multicast Support
Supports up to 32 Aggregated Links per Switch via 802.3ad
Includes:
(1) Dell PowerConnect 5524
Rack Ears
Power Cord
Serial Cable
1 Year Warranty