ShoreTel 90 ShoreGear Voice Switch SG-90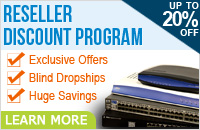 The ShoreTel 90 ShoreGear SG-90 Voice Switch is a 1U half-width voice switch that supports up to 90 IP phones and up to a maximum of 12 analog ports (eight loop start trunk and four analog extension ports).
The ShoreTel Voice Switch 90 supports ShoreTel IP phones, softphones, and SIP devices using the Media Gateway Control Protocol (MGCP). The ShoreGear 90 interfaces to standard analog trunks using loop start or wink start signaling, as well as to standard analog telephones including CLASS feature phones with Caller ID Name and Number and Message Waiting.
ShoreTel ShoreGear 90 (SG-90) Features:
2 RJ-45 local area network (LAN) connectors

1 RJ-21X port for punchdown block, patch panel, or 12-port harmonica connector

8 loop start trunks (FXO)

4 telephone ports (FXS)

1 DB-9, RS-232C maintenance port for serial communications

1 3.5 mm stereo input for connecting a music-on-hold source

1 3.5 mm stereo output for connecting to a overhead paging system or night bell

Supports SIP trunks and SIP devices

Supports 90 IP phones

12 analog ports

Leverages loop start or wink start signaling
Includes:
(1) ShoreTel ShoreGear SG-90 Voice Switch

Power Cord

1 Year Warranty