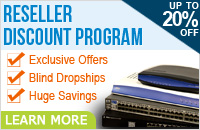 ShoreTel 230 IP Phone (Black) IP230
$27.99
Compare at: $93.99
(You save $66.00)

The ShoreTel IP 230 is an affordable phone that performs just as well as it looks. The ShoreTel IP 230 supports three lines and is designed to work with ShoreTel's Unified Communications platform. The ShoreTel 230 has a large menu driven LCD display, along with four soft keys to make configuring your phone a breeze. The IP230 also has three programmable buttons and a full duplex speakerphone, which means your 230 can function as a conference phone with ease. An integrated 10/100 Ethernet switch enables your phone and computer to share the same network drop; sharing the same network drop will in turn save you money. The ShoreTel IP 230 runs on and uses the MGCP to place phone calls through the ShoreTel system. The ShoreTel IP230 can be configured via the display of the phone, allowing the IP phone to be easily setup.
The ShoreTel 230 phones sold by Dotcom Computers are all like new condition. They are cosmetically graded A and include full functionality of the original phone. Our open box phones are fresh, never used phones.
ShoreTel IP 230 Features:
LDC Display
LED indicator light (incoming calls and unheard voice messages)
3 Lines
Menu Driven Display
4 Soft Keys
3 Programmable Keys
Audio Control Keys (volume, speaker, ring volume, mute)
Full Duplex Speakerphone
Interface scroll buttons
MGCP - Media Gateway Control Protocol
Class 2 PoE
Codecs Supported: G.711, G.722, G.729a, BV-16, BV-32
Includes:
(1) ShoreTel IP 230 Black Phone
Base
Handset
New Curly Cord
1 Year Warranty
Write Review
Reliable Phone

Posted by Unknown on Dec 22nd 2015

We uses this phone many years without any issue. it is most dependable phone out there. Even with this refurbished phone works great.

Solid, solid phone

Posted by FS on Aug 28th 2015

Dotcom has some of the best pricing on these solid ShoreTel phones. Always satisfied with my purchases from Dotcom, thank you!

Great value on a great VOIP phone.

Posted by Glenn F on Aug 6th 2015

We have been a ShoreTel customer for almost five years. Ordering refurbished 230 ip phones from Docom Computers has been a great value on an exceptional phone. All phones look brand new and come with new cords. Ordering on line is easy, customer service top notch and they stand behind their products. I highly recommend them.

Great value

Posted by Jose G on May 29th 2015

These phones came in nicer than expected for refurbished. Will definitely buy from Dotcom again.