HP ProCurve 7203DL Router J8753A with Octal T1/E1 J8463A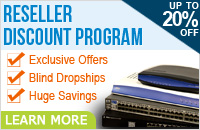 The HP ProCurve 7203DL (J8753A) is a secure, Layer 3 modular router which supports a wide range of modules. The 7203DL has two modular slots, a normal and wide slot, best of all this router is rack mountable so it can be stacked with your other ProCurve equipment. The HP ProCurve 7203DL (J8753A) features dual Ethernet interfaces operating at 10/100 Mbps, and is managed via an RS-232 port.
The HP J8463A octal T1/E1 is a NIM card which is included with the 7203DL router. This network interface module has eight RJ-48 ports which terminate a T1/E1 digital circuit.
HP ProCurve J8753A Features:
Layer 3
Modular Router
Dual Ethernet Interfaces (10/100 Mbps)
Dual Modular Slots (Normal & Wide)
Terminates Octal T1/E1 Circuits
Includes:
(1) HP ProCurve 7203DL Router J8753A
(1) HP J8463A Octal T1/E1 Module
Rack Mounts
Power Cord
1 Year Warranty