Dell PowerConnect 8024F Fiber SFP+ 10Gb Network Switch X6M11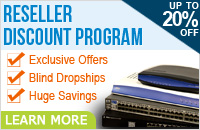 The Dell PowerConnect 8024F is a high speed switch designed for fiber connections in a data center environment. The Dell 8024F supports wire-speed performance on 24 ports at up to 10GbE and an additional four combo ports. The PowerConnect 8024F is a stackable switch, and up to six can be stacked and configured to behave as a single unit. The Dell PowerConnect 8024F is a layer 3 switch supporting routing features, and offers redundant power supplies all in a 1U rack size.
The PowerConnect 8024F features 24 SFP+ ports that support speeds up to 10Gb. Four of those ports are combo ports that are 10GBASE-T (100/1,000/10,000) or SFP+. The 8024F features auto-negotiation for speed, duplex mode, and flow control on the 10GBASE-T ports. The Dell 8024F offers iSCSI optimization for Dell EqualLogic SAN array deployments. The redundant power supplies included are hot swappable allowing the network switch to stay up while a defective power supply is replaced. The Dell PowerConnect can be managed via either a command line interface or a web-browser based GUI.
Dell PowerConnect 8024F Features:
24x SFP+ Ports at 10Gb or 1Gb

4 Combo ports 10GBASE-T or SFP+

Stackable up to 6 switches

Layer 3 Routing

Static Routes

Routing Information Protocol (RIP) v1/v2

Open Shortest Path First (OSPF) v1/v2/v3

Classless Inter-Domain Routing

Internet Control Message Protocol (ICMP)

Virtual Redundant Routing Protocol (VRRP)

Address Resolution Protocol (ARP)

Internet Group Management Protocol (IGMP) v2

Virtual Redundant Routing Protocol (VRRP)

Address Resolution Protocol (ARP)

Internet Group Management Protocol (IGMP) v2

Distance-Vector Multicast Routing Protocol (DVMRP)

DHCP Helper / Relayer

Supports Up to 1,000 VLANs

Quality of Service (QoS)

Link Aggregation

Up to 32,000 MAC Addresses

Total Switching Fabric Capacity up to 480 Gbps

16 Mb Packet Buffer Memory
Includes:
(1) Dell PowerConnect 8024F Switch (X6M11)

Redundant Power Supplies

Rack Mounts

Power Cord

1 Year Warranty