Dell Networking N4032F Fiber QSFP+ Switch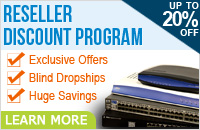 The Dell Networking N4032F is a 24 port network switch that provides 10GbE SFP+ fiber ports. The Dell N4032F also has dual integrated 40 GbE QSFP+ ports for high speed stacking and network uplinking. Support for breakout of the 40GbE QSFP+ port to four 10GbE is available as an optional accessory. The Dell N4032F supports all the standard switch features such as auto-negotiation, auto MDI/MDIX, port mirroring, flow-based port mirroring, broadcast storm control, energy efficient Ethernet port settings, and port profile including admin profiles.
The Dell N4032F is a managed switch, and can be configured via the out of band RJ-45 Ethernet port (10/100/1000) in the rear of the switch. Configuration pages can be uploaded and downloaded through the USB port on the front of the switch. The switch is stackable, and the Dell Networking 4032F can support stacking at up to 40Gb/s.
Dell Networking N4032F Features:
Port Speed: 10 Gb/s
Ports: (24) 10Gb SFP+ and (2) QSFP+ 40Gb
Optional Redundant Power Supplies
Layer 3
Stackable
Managed
Includes:
(1) Dell Networking N4032F Switch
Power Cord
Single Power Supply
1 Year Warranty
Optional: Dual Power Supplies