Dell Networking N3024 Gigabit 24 Port Switch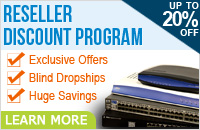 The Dell Networking N3024 is a powerful, enterprise ready layer 3 network switch. All twenty four of the Base-T ports on the switch are Gigabit speeds, and two ports are combo Base-T and SFP Fiber ports at up to 1Gb/s. Two additional dedicated SFP+ ports can support up to 10GbE connections. As a layer 3 switch, the Dell Networking N3024 supports advanced routing features such as quality of service (QoS) and IPv4 addressing.
The Dell Networking N3024 can support backing up configurations and loading them via USB as well as connecting to the switch for management via an out of band Base-T RJ-45 port. Two rear mini-SAS ports can be used to stack these switches together at speeds up to 21 Gbps.
Dell Networking N3024 Features:
Ports: 48 RJ-45 Base-T
Port Speed: Gigabit (10/100/1000)
Two SFP / RJ-45 Combo Ports
Two Dedicated SFP+ 10Gb/s Ports
Layer 3 Routing
USB Confiugrable
Managed
Stackable
Includes:
(1) Dell Networking N3024 Switch
Single Power Supply
Power Cords
OPTIONAL: Redundant Power Supply
1 Year Warranty