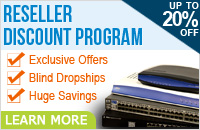 The Crestron C2N-SPWS300 power supply delivers 300 watts and is designed for powering your Cresnet system. The C2N-SPWS300 supplies power to eight managed outputs. Each port can handle up to 75 watts, with a total system capability of 300 watts. A built in circuit breaker is included for every port, and protects your Crestron system from eletric failure or surge. These circuit breakers can be monitored and managed remotely from your control system. In addition to monitoring the breakers, the C2N-SPWS300's voltage and temperature levels can also be tracked to ensure correct operability.
Crestron C2N-SPWS300 Features:
75w Per Channel
Max Power: 300w
Built In Circuit Breakers
8 Managed Outputs
Monitor Output Statuses
Includes:
(1) Crestron C2N-SPWS300 Power Supply
1 Year Warranty
Dotcom Computers Inc. is not an authorized Crestron dealer. We are not affiliated with Crestron. We do not sell software or support. For these, you will need to contact an authorized Crestron dealer.