Adtran NetVanta 5305 4200990L1 4-Port 10/100 Gigabit Router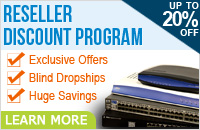 The Adtran NetVanta 5305 is a large router built for corporate enterprise networking. The 5305 provides six "wide" network interface module (NIM) slots for flexible configuring and can handle up to two unchannelized T3's worth of bandwidth through the system. The NetVanta 5305 ha a pair of Ethernet ports built in with the option to segment your LAN.
The Adtran NetVanta 5305 can handle IPv6 traffic, has the ability to filter URLs, and even offers a stateful inspection firewall. In addition, the 4200990L1 provides Quality of Service (QoS) that allows users to prioritize time sensitive traffic such as VoIP.
Adtran 4200990L1 Features:
Modular Router Design

Supports to to 6 Network Interface Modules (NIMs)

Dual Ethernet Interfaces

Quality of Service

Stateful Inspection Firewall
Includes:
5305 Router (4200990L1)

AC Power Supply

System Controller Card

Console Cable

Rack Ears

Power Cord