Cisco 7965G IP Phone CP-7965G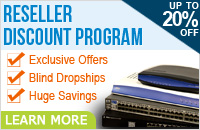 The Cisco 7965G is an executive phone designed for those with high bandwidth needs. The 7965 is an IP phone that features a full color, graphical backlit display with multiple soft keys for easy configuration. The Cisco 7965G also has a navigational key front and center so you can easily navigate from setting to setting. This Cisco IP phone supports six line appearances and six programmable buttons that can be used for speed dialing and many other purposes. One of the most important features of the 7965 is the integrated gigabit Ethernet switch which allows your phone and computer to share the same network drop. Doing so means less wiring and less clutter, best of all, the gigabit speeds ensure you won't sacrifice network speeds.
The Cisco 7965G is hearing aid compatible and also packs great handsfree communication features. The 7965 has a full duplex speakerphone, a built-in headset port, wideband audio support, and is hearing aid compatible. Since the Cisco 7965G is powered via PoE (Power over Ethernet), you must have an 802.3af compliant PoE switch.
CP-7965G Features:
Power over Ethernet (PoE)
Backlit Color Display
Integrated Gigabit Ethernet Switch
Hearing Aid Compatible
Wideband Audio Support
6 Line Appearances
6 Programmable Buttons
Built-in Headset Port
LED Status Indicators
Includes:
(1) Cisco CP-7965G IP Phone
New Curly Cord
Built-in Base
Handset
Customers also viewed