Cisco 2950 Catalyst WS-C2950-24 24-Port Switch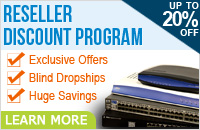 The Cisco WS-C2950-24 is a 24 port Ethernet networking switch. The WS-C2950-24 provides fast Ethernet (10/100 Mbps) connectivity across all of the ports. It features advanced capabilities such as Quality of Service (QoS). The Catalyst 2950 switch is managed and can be controlled through a command line interface.
The Cisco Catalyst 2950-24 is a member of the Cisco Catalyst 2950 Series switches, and is a standalone, fixed-configuration, managed 10/100 switch providing user connectivity for small to mid-sized networks. This wire-speed desktop switch comes with Standard Image (SI) software features and offers Cisco IOS functionality for basic data, video and voice services at the edge of the network.
Cisco WS-C2950-24 Features:
24 Ethernet Ports 100BASE-T
Managed - Command Line Interface
Quality of Service Support
Rack Mountable
Includes:
(1) Cisco 2950 Catalyst WS-C2950-24 24-Port Switch
Rack Mounts
Power Cord
1 Year Warranty
Customers also viewed