Adtran Total Access 908e 3rd Gen eSBC Gateway 4243908F2SBC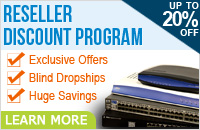 The Adtran Total Access 908e 4243908F2SBC is the 3rd generation of the popular gateway that features eight FXS ports, quality of service, stateful inspection firewall, voice qulaity monitoring, and so much more. The Adtran 4243908F2SBC is an enterprise class device for Ethernet and multi-T1 apps.
This product has been discontinued and replaced with multiple products: 4243908F2#5, 4243908F2#25, 4243908F2#50, and 4243908F2#100.
Adtran 4243908F2SBC:
Enterprise Session Border Control (eSBC)

Lifeline FXO

Three Ethernet Interfaces

One Gigabit

Two 10/100 Mbps

8 FXS Ports

Quality of Service (QoS)

Stateful Inspection Firewall

802.1q Virtual LAN Trunking (VLAN)

Voice Quality Monitoring (VQM)

Network Address Translation (NAT)

IP Router

Dynamic Bandwidth Allocation
Includes:
(1) Adtran Total Access 4243908F2SBC NEW

Wall Mounts

Power Cord

Console Cable