Adtran Total Access 904 2nd Gen Gateway 4212904L1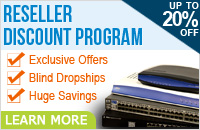 The Adtran Total Access 904 2nd Gen Gateway 4212904L1 is a IP business gateway designed with network flexibility in mind. The Total Access 904 can support either SIP trunks and a PRI circuit entering the system and can convert those signals to analog FXS ports. In addition, the Total Access 904 has a full featured IP router built into the gateway. The 4212904L1 is the second generation version of the Adtran 904. The Adtran 904 is designed for delivering SIP trunks or hosted PBX connectivity to small or medium businesses quickly and efficiently.
Each Adtran Total Access 904 has been reset to factory default settings including passwords reset. It has been tested by our well qualified and knowledgeable staff who are well trained in dealing with Adtran products. Router features include OSPF, BGP, RIP V1 and V2, Static routes, 802.1d Bridging (all protocols), CLI, Frame Relay and PPP WAN Protocols, SNMP, Telnet, Craft/Console port, TFTP support and stateful inspection firewall. The Adtran 4212904L1 supports conversion from analog to SIP or MGCP.
Adtran 4212904L1 Features:
Supports Analog to SIP or MGCP Conversion

T1 Network Interface

4 Analog FXS Ports

DSX-1 Port

10/100 BaseT Interface

Full Featured IP Router

Voice Quality Monitoring (VQM)

Stateful Inspection Firewall

Quality of Service (QoS)

Front Panel LED Status Indicators

Web Based GUI

Command Line Interface (CLI)

Supports G.729a Voice Compression

G.168 Echo Cancellation

Network Address Translation (NAT)

Routing Protocols: RIP, OSPF, BGP
Includes:
(1) Adtran Total Access TA 904 (TA904) 4212904L1 2nd Gen

Console Cable

Rack-mounts

Power Cord

1 Year Warranty