Adtran NetVanta Dual T1/FT1 NIM (1200872L1)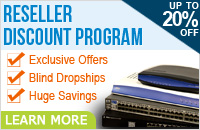 This Adtran 1200872L1 Dual T1 Network Interace Module -- NIM -- is for the Adtran NetVanta 3200, the NetVanta 3205, the Adtran 4305, and other Adtran routers. The Adtran 1200872L1 is the first generation dual T1 card. This module terminates 2 T1's.
The dual T1/FT1 Network Interface Module (NIM) for NetVanta 3000 series and NetVanta 4305 Access Routers and NetVanta 1335 Multiservice Access Router. Note: Only 1 Dual T1 NIM is supported in the NetVanta 3305. NetVanta 4305 will support 2 Dual T1 NIMs.
Adtran 1200872L1 Features:
Provides 2 T1 Circuits

Integrated CSU / DSU

Can Terminate Fractional T1 Circuits
Includes:
(1) Adtran NetVanta Dual T1 Module 1200872L1

1 Year Warranty