Adtran Atlas 550 AC Base Unit Chassis 1200305L1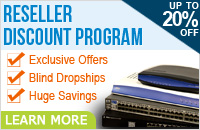 The Adtran Atlas 550 is a modular business gateway and integrated access device. The Atlas 550 chassis has 6 slots in the rear that can hold a variety of modules including T1 modules, FXO trunks, FXS interfaces, ISDN-BRI modules, and includes a 10/100 Ethernet interface. The Adtran 1200305L1 can support ISDN switching, 1/0 DACS, frame relay switching, and videoconferencing. The Adtran 1200305L1 can act as a video switch for networking videoconferencing systems together, including encrypted video. The Adtran Atlas 550 can support multiple conversions such as PRI-to-T1, PRI-to-BRI, and PRI-to-Analog with the appropriate modules installed.
The Atlas 550 chassis is configured through the console interface port in the rear of the switch. The gateway is programmed through an easy to use command line interface menu. The gateway is ideal for supporting legacy phone systems and converting digital circuits to another standard or analog.
Adtran Atlas 1200305L1 Features:
Supports 6 Module Bay Slots

Supports Two Network Interface Modules (T1/PRI) and Four User Slots

10/100 Ethernet LAN Interface Built-in

Supports up to 18 T1/PRI Ports
Includes:
(1) Adtran 1200305L1 Atlas 550 AC Base Unit Chassis
(1) T1/PRI Network Interface Module 1200307L1

Rack Mounts

Console Cable

Power Cord

1 Year Warranty