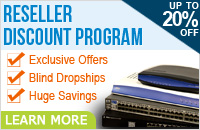 The Aastra 6739i is a high end IP phone based off of Session Initiation Protocol (SIP). The phone has a large color screen that is backlit to provide a clear picture even in low light. The 5.7" display is a touchscreen that provides programmable buttons directly on the display. Up to 55 programmable softkeys can be set up in the phone. A gigabit switch is built into the phone to provide high speed data transfer and allow a desktop phone to share the same network drop at full Gigabit (10/100/1000 Mbps) speed.
The Aastra 6739i has additional advanced features such as a built-in USB port and support for bluetooth headsets. An onscreen keyboard is available for keying in and editing entries in the phone, and the IP phone has full XML browser support for apps. The Aastra 6739i can support up to 9 line or call appearances.
The Aastra 6739i phones sold by Dotcom Computers are all like new condition. They are cosmetically graded A and include full functionality of the original phone.
Aastra 6739i Features:
Large Color Backlit Display
5.7" Touchscreen
Session Initiation Protocol (SIP) Based
Supports up to 9 Line or Call Appearances
Integrated Gigabit Ethernet Switch
XML Browser Included
Native Bluetooth Headset Support
On-Screen Keyboard
Up to 55 Programmable Softkeys
Integrated Busy Lamp Field (BLF) Support
IEEE 802.3af Power over Ethernet Support
Personal Directory with Picture Support
Includes:
(1) Aastra 6739i IP Phone - Like New
Leg Stands
Handset
New Handset Cord
1 Year Warranty