Polycom SoundStation IP 7000 Conference Phone 2200-40000-001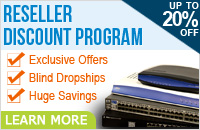 The Polycom SoundStation IP 7000 is an IP based conference phone designed to be the focal point of your conference room. With Polycom's HD voice technology and their acoustic clarity technology, the IP 7000 is a high fidelity speakerphone built around a full duplex heart. Three microphones are placed equidistant from each at the corners of the Polycom IP 7000. With the IP 7000's modular capabilities, additional microphones can be connected to the conference phone for expanded room coverage. Even a second IP 7000 can be used as a set of microphones.
The Polycom SoundStation IP 7000 runs Session Initiation Protocol (SIP). The SIP standard allows for the IP 7000 to work with a broad range of phone systems. The IP 7000 can be powered by a network switch through Power over Ethernet (PoE). Built in PoE makes deploying the IP 7000 simple with no additional cords required. If a PoE switch is not available, the IP 7000 can also be deployed with an optional AC adapter (not included).
A large built in display is included with the IP 7000. This backlit display makes navigating the 2200-40000-001 a breeze. A four way navigational key makes negotiation the menu prompts easy, and the full keypad means dialing a number is as simple as on a deskphone.
Polycom SoundStation IP7000 Features:
SIP Based
Polycom HD Voice Technology
Polycom Acoustic Clarity Technology
Menu Driven Graphical Display
Includes:
(1) Polycom IP7000 / 2200-40000-001 Conference Phone
1 Year Warranty