Netgear AX742 ProSafe Stacking Module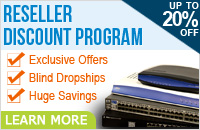 The Netgear AX742 ProSafe stacking module is designed for M5300 series switches. This stacking module allows you to connect two Netgear switches together to behave as one unit. The AX742 module includes a single CX4 / SAS input. When combined with another module and a SAS cable, the stacking module supports ring topology in switches at speeds up to 24 Gbps. Up to two AX472 modules can be installed in a single switch.
The Netgear AX742 stacking module is compatible with the Netgear GSM7328S and GSM7352S network switches.
Netgear AX742 Features:
1 Port
SAS / CX4 Connection
Network Speed: 24 Gb/s
Includes:
(1) Netgear AX742 Stacking Module
1 Year Warranty