Mitel 5340e Gigabit IP Phone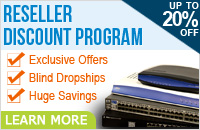 The Mitel 5340e is a powerful phone and perfect for those who demand high performance. The Mitel 5340e differs from the regular 5340 version due to dual integrated Gigabit Ethernet ports. The LAN and PC ports of the 5340e offer 10/100/1000 Mbps so your phone and computer can share the same network drop without sacrificing network speed. The Mitel 5340e (50006478) most noticeable feature is its large backlit LCD display. Having a backlit display allows you to clearly ready the screen even in low light conditions, also, the display supports self labeling keys which is great since the 5340e has 48 programmable buttons!
An important feature of the Mitel 5340e is its dual mode capabilities, supporting both SIP and MiNET protocols. The 5340e (50006478) comes with 13 fixed feature keys such as the hold, speaker, mute buttons and so on. This Mitel business phone can be powered via PoE (Power over Ethernet) by an 802.3af compliant switch. Best of all, the Mitel 5340e (50006478) can accept additional modules and accessories such as cordless headsets and other devices to make you more efficient throughout the business day.
Mitel 5340e Features:
Gigabit Ethernet Ports (PC and LAN)
Large Backlit Display
48 Programmable Buttons
Full Duplex Speakerphone
Self Labeling Buttons
Dual Modes (SIP and MiNET)
Power over Ethernet (PoE)
13 Fixed Feature Keys
Includes:
(1) Mitel 5340e Gigabit IP Phone 50006478
Base
Handset
New Curly Cord