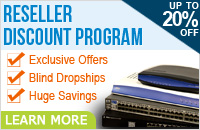 3Com NBX 100 Phone System and Components
Get the best deals on the 3Com NBX 100 phone system and components for it. The 3Com NBX 100 system and modules are designed as a complete VoIP system for your business, no matter how small or large.
The 3Com NBX 100 supports up to 200 devices/100 PSTN lines. It connects your remote workers directly through their Internet router, and reliably connects multiple intra-company sites - across town or around the globe - with low-cost IP virtual tie lines. Adding locations and capacity is easy: the 3Com NBX 100 and Super Stack 3 NBX telephony solutions both use the same system software.
Compare