Polycom SoundStation IP 6000 Conference Phone 2200-15600-001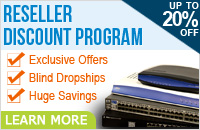 The Polycom SoundStation IP 6000 (2200-15600-001) is a SIP based conference phone. This SIP enabled conference phone has been designed to work on a wide range of phone systems, including Adtran, Cisco, Aastra, and more. Power over Ethernet (PoE) capable, the IP 6000 eliminates the need for a power supply when hooked up to an 802.3af enabled PoE switch. An optional (not included) power supply is available for networks without Power over Ethernet present.
The Polycom IP 6000 features unparalleled voice quality. Polycom's acoustic clarity technology and HD voice technology have been built into this conference phone, providing it with unrivaled sound quality. Three microphones positioned around the system pick up everyone's voice in the room without distorting it with noise or echo. Expansion microphones are available for larger conference rooms that require a greater area to be picked up.
Polycom SoundStation IP 6000 Features:
Supports SIP - Broad Interoperability

Backlit Display

Supports Static and DHCP IP Addresses

12 foot Microphone coverage, expandable to 30 feet with expandable mics

Power Over Ethernet (PoE) 802.3af support. Can also use Power Kit

Polycom Acoustic Clarity Technology

Polycom HD Voice Technology

Codecs Supported: G.711, G.722,G.222-1, G.722-1C, G.729a, and Siren 14

Protocols Supported: IETF SIP RFC3261

Web Based Configuration: HTTP, FTP, TFTP, HTTPS

Web Based Support for software updates and addign configuration files

Automatic Gain Control

High Fidelity Audio (220 Hz to 14 KHz)
Includes:
(1) Polycom IP 6000 Conference Phone 2200-15600-001

OPTIONAL: External Microphones

1 Year Warranty