Netgear GS724TPS ProSafe PoE Gigabit Stackable Switch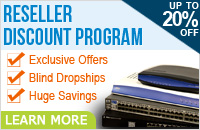 The Netgear ProSafe GS724TPS is a 24 port enterprise level switch. The ProSafe GS724TPS provides Gigabit network speeds to all 24 ports on the switch. Four of the 24 Gigabit ports can be set up and configured as either SFP fiber ports or Ethernet. The switch is a power over Ethernet switch, delivering IEEE 802.3af power to all 24 ports. The GS724TPS can provide 802.3at standard up to 30W to each of the first four ports, and an additional 15.4W standard power to the 20 other ports. As a stackable switch, the Netgear Prosfae can be stacked via HDMI in the rear allow stacking the switches together to have them behave as a single logical unit. The Netgear GS724TPS provides up to 10Gb/s bandwidth through the stacking HDMI ports. Up to six switches can be stacked together. The switch is rack mountable and can be mounted into any standard 19" telco rack.
As a Gigabit PoE switch, the Netgear GS724TPS is ideal for deployments of voice over IP (VoIP), IP surveillance cameras, and wireless access points. The GS724TP even includes an auto voice VLAN feature for easy deployment.
Netgear GS724TPS Features:
24 Ports
4 Combo Ports (SFP or Ethernet)
Gigabit Speeds
HDMI Stacking
802.3af Power over Ethernet
802.3at PoE+ on First Four Ports
MAC Address Table: 8,000 Entries
VLAN Support
Buffer Memory: 2MB
SNMP Support
Quality of Service (QoS) Support
Link Aggregation Support (LACP)
Port Mirroring
MPN: GS724TPS-100NAS
Rack Mountable
Includes:
(1) Netgear GS724TPS Gigabit Network Switch
Rack Ears
Power Cord
1 Year Warranty