Netgear FSM7352PS ProSafe PoE Stacking 52 Port Gigabit Switch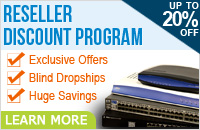 The Netgear FSM7352PS is a powerful enterprise ready networking switch. This rack mountable switch is 48 ports, each capable of delivering 10/100 Megabits per second with an additional four Gigabit uplinking ports. The Gigabit uplinking ports are combo ports that can be used as SFP fiber or Ethernet copper. These switches provide IEEE 802.3af power over Ethernet (PoE) ports to each of the switch's main 48 ports. As a rack mountable switch, the FSM7352PS mounts directly into a 19" rack chassis.
The Netgear FSM7352PS provides layer 3 switching capabilities to router between VLANs and network segmentations as needed. Additional enterprise network features include VLAN trunking, class of service, and quality of service. The FSM7352PS can be stacked via the Gigabit combo ports in the front of the switch.
Netgear FSM7352PS Features:
52 Ports
48 Ports Fast Ethernet
4 Gigabit Combo Ports (SFP / Ethernet)
802.3af Power over Ethernet
Rack Mountable
Stackable
Includes:
(1) FSM7352PS Switch
Rack Ears
Power Cord
1 Year Warranty