Netgear GSM7248 ProSafe 48 Port Gigabit Switch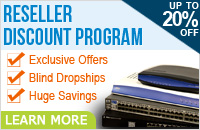 The Netgear GSM7248 ProSafe Switch is a great choice for those businesses deploying an enterprise-class solution. The switch comes with forty-eight ports featuring Gigabit Ethernet speeds of 10/100/1000 Mbps. The four SFP combo ports allow you to stack or link additional networking equipment together as your company grows. An important aspect of the combo ports is that they can be fiber or Ethernet, depending on the distance you need to span. Other important features of the Netgear GSM7248 ProSafe Switch include Quality of Service (QoS), IGMP, VLAN support, Layer 3 light, Managed, and a rack mountable metal chassis. The Netgear GSM7248 includes additional tools such as alarm manager, traceroute, configuration scripting, advance keying, prelogin banner, port mirroring, SNTP, Syslog, and data migration. Built in security provides native denial of service and port security. The SFP fiber ports on the switch support 1000BASE-SX, 1000BASE-LX, or 1000BASE-ZX optical transceivers.
The Netgear GSM7248 comes in two separate variations, the Netgear GSM7248v1 / GSM7248-100NAS and the Netgear GSM7248v2 / GSM7248-200NAS. Both styles of switches are available.
Netgear GSM7248 Features:
48 Ports (10/100/1000) Mbps
Gigabit Ethernet
4 SFP Combo Ports
Quality of Service (QoS) Support
IGMP
Supports Up to 512 VLANs
Jumbo Frame Support
Managed
16,000 MAC Addresses
Layer 3 Light Support
Port Mirroring
Link Aggregation Control Protocol (LACP)
96 Gbps Total Switching Fabric
<20 microseconds Switch Latency
Supports 6 VLAN Trunks / 4 Queues
USB Port on -200NAS
Rack Mountable
Metal Chassis
Includes:
(1) Netgear GSM7248 ProSafe Switch
Rack Ears
Power Cord
1 Year Warranty