Netgear GS748TS ProSafe 48 Port Gigabit Stackable Switch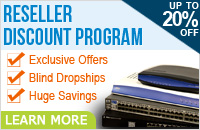 The Netgear GS748TS is a 48 port enterprise ready switch. The Netgear GS748TS is a rack mountable and stackable switch. The forty-eight ports of the GS748TS switch are Gigabit speeds, allowing for high speed data transfer to desktops. The GS748TS also has four combo ports that support either SFP or Ethernet connections. Two HDMI ports in the rear of the switch support stacking multiple ProSafe switches into a single logical switch with high speed switching between the Netgear units. The Netgear GS748TS can be stacked at speeds up to 10Gbps. Up to six switches can be stacked together.
The Netgear GS748TS provides advanced enterprise features such as support for 802.1Q VLANs. The ports are auto sensing and auto negotiating in addition to support Netgear's Auto Uplink on all switch ports. 802.1P Class of Service (CoS) and a port based Quality of Service (QoS) allow for ensuring traffic prioritization. The Netgear GS748TS supports TCP and UDP-based prioritization. Dynamic Link Aggregation and and static LAGs are also supported. The Netgear GS748TS switch is rack mountable and can fit into a standard 19" network rack. The ProSafe switch is 1U in height. The switch has built in broadcast storm control to prevent an incorrent connection from bringing down your network in a broadcast storm.
Netgear GS748TS Features:
48 Ports
Gigabit Speeds
4 Combo Ports (SFP or Ethernet)
Stackable (HDMI)
Quality of Service
TCP / UDP Baed Prioritization
Auto Uplink
Dynamic or Static Link Aggregration
802.1p Class of Service
8,000 MAC Address Table Size
VLAN Support
128KB Buffer Memory
Auto Uplink
Auto Sensing / Auto-Negotiating
802.3ad Static or Dynamic Link Aggregation
802.1D Spanning Tree Protocol
Layer 3 Support
TACACS+
Port Mirroring
Broadcast Storm Control
Metal Chassis
Rack Mountable
Rack Height: 1U
MPN:

GS748TS-100NAS
Includes:
(1) Netgear GS748TS ProSafe Switch
Rack Ears
Power Cord
1 Year Warranty