Netgear FS728TPv2 ProSafe Power Over Ethernet PoE 24 Port Switch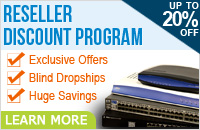 The Netgear FS728TPv2 is a power over Ethernet (PoE) switch that can provide 15.4W IEEE 802.3af power to the 24 ports of the switch. The FS728TPv2 is a fast Ethernet switch that provides 10/100 speeds to every port. An additional two combo ports can be used as either SFP or copper Ethernet connections. These combo ports are Gigabit uplink ports that can be used to connect the ProSafe switch to the backbone of your network.
The FS728TPv2 provides enterprise level features such as class of service (CoS), VLAN trunking, and a web based GUI. You can use the Netgear FS728TPv2 to power your end devices such as IP phones and wireless access points while maintaining priority of traffics through the switch's classes of service capabilities.
Netgear FS728TPv2 Features:
24 Ports
Power over Ethernet (PoE)
Fast Ethernet
2 Gigabit Combo Ports (SFP / Ethernet)
Includes:
(1) Netgear FS728TPv2
Rack Ears
Power Cord
1 Year Warranty